To ensure the motor wheel is securely held into the fork dropouts we need to make sure the axle nuts are tightened accordingly. Now, we know not everyone will have a torque wrench to hand, so this article is to help explain how 45Nm will feel when using a spanner or wrench.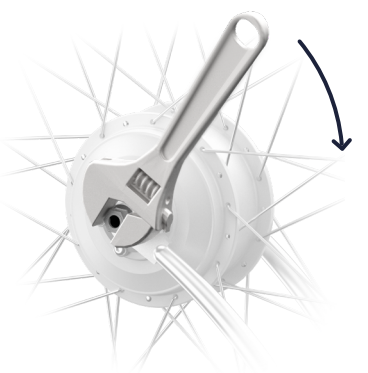 45Nm is what we refer to as "White knuckle force". This means applying enough force to the spanner that your knuckles turn white.
With the bike upside down ensure the spanner is seated correctly over the axle nuts to avoid the spanner slipping during this process.
With your weight above the spanner push down to tighten (to the right) equally on each nut, until the nuts are unable to move any further. From this point use both hands on the spanner to attempt another 1/4 turn of the nuts, you will feel the spanner pressing hard against the palm of your hand, this is a good indication the nut is at the desired torque and the wheel is secure.
If you are still unsure please don't hesitate to get in contact with one of our team at: https://support.swytchbike.com/hc/en-gb/requests/new
Register Now
To be the first to know our next stock drop is live, don't forget to register to our waitlist here: https://www.swytchbike.com/