Thank you for your Swytch order! We can't wait for you to start on your Swytch journey.
Now you have placed your pre-order we've begun manufacturing your 'base' kit, this includes your Power Pack, connector, motor and pedal assist system. We currently have all the information we need from you to get on with that process.
In the Order Portal stage, we will request some more information from you, including things such as your bike's wheel size, your delivery address and any optional extras you would like to add to your order.
It's important to go all the way through to the end of the order portal to ensure your order is completed.
First, find your order portal invite email - it should look something like this: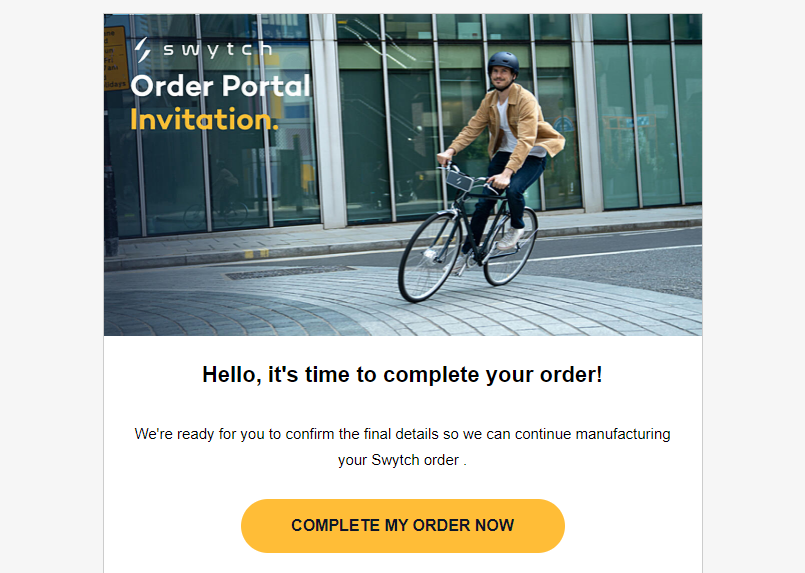 Click the orange button to begin!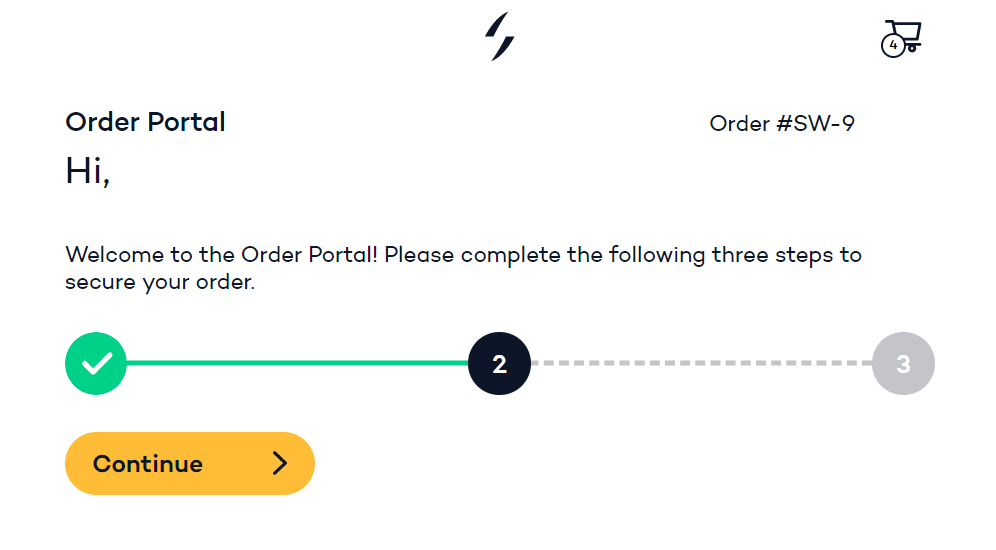 🔘 Step 1: Delivery Details
Enter your chosen delivery address where you want your kit delivered. If you can't find your country, please first check that the currency you used to pay is the correct one:
| | |
| --- | --- |
| Currency | Delivery to |
| £ | UK, Channel Islands |
| $ | USA, Canada, Australia, New Zealand & Rest of World |
| € | Europe |
Please contact us if your currency is incorrect or you can't find your country.
➕ Step 2: Your Kit
It's time to select which kit type you need.
This is your opportunity to upgrade your order to a MAX Power Pack, opt for a black wheel or for the narrow forks kit. You can also add additional Power Packs to your order to extend your range.
Universal vs Folding Kit
The Swytch Kit works on any bike as long as it doesn't have thru-axles or hub, roller or coaster brakes. To confirm whether you require the Universal or Folding kit you will need to measure the front fork width as shown below. If your fork width (measured at the lowest end) is around 100mm, then please select our Universal kit, but if it's narrower (74-80mm) you will need our Brompton kit.
Our Folding kit is designed for the narrow Brompton forks, which are 74mm wide. This specialised motor is also suitable for other bikes with narrow forks such as a Dahon (80mm).
Wheel Size
Usually, you will be able to find this written on your bike tyre, in the ETRTO, English or French format.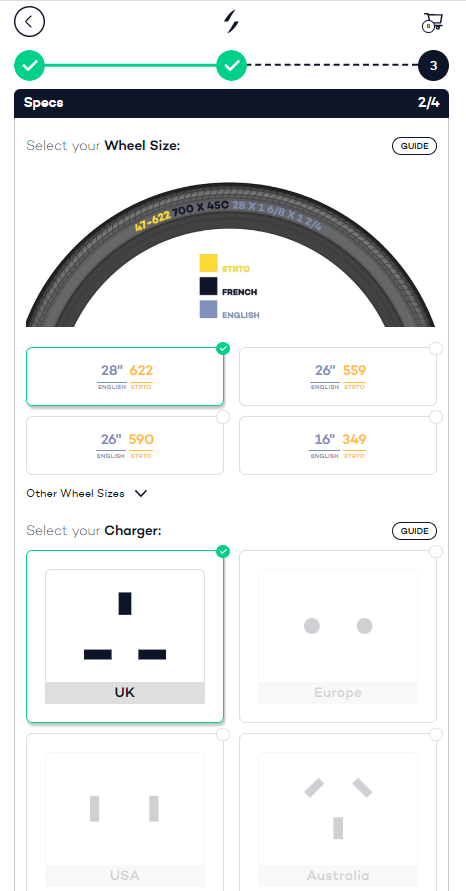 Your wheel size should match one of the markings on the table below. To find out what Swytch Wheel size you need you will need to look for the three-digit number, or if there isn't one, the larger of the two-digit numbers (bold on the table below).
Swytch motor wheels can take any width of tyres from 1.1-2.35 inches (28-60mm) - this corresponds to the smaller number written on your tyre. If the width is outside this range you will need to locate a different tyre to fit our kit or opt for our hub-only kit. If you still can't find which wheel size you need you can measure it yourself, or contact our customer service team.
Plug Type
Checking your plug type couldn't be simpler. Simply go and check your outlet to see which one it corresponds to from our options displayed. Or just select the region you live in.
Customisations
Here you can personalise your Swytch Kit from a choice of colours.
Choose between our standard silver wheel and our black option. You can also opt to add some colour to your Power Pack. The Power Pack comes in grey as standard but you can upgrade it to blue, green, red, orange or silver for a small additional fee.
Addons
You can add a range of accessories and add-ons to your order such as displays, throttles, brake sensors and adaptors to allow you to mount the Power Pack in different positions around your bike. We recommend adding the torque arm if you have a bike with old forks (30+ years), carbon forks, or narrow forks such as the Brompton.
You can find out about the various accessories we offer by searching our Help Centre.
🚢 Step 3: Extras
Here you can find all the extras we have on offer. Choose to half your charging time with our fast charger, or grab an extra charger to leave at work. You can also find our USD chargeable rear light, 20-piece toolkit and our Swytch branded t-shirt!
🔒 Step 4: Confirm Your Order
Check your order and personal details are correct before submitting your order.
If you have upgraded your kit or added any addons or extras to your order you will be asked to pay the remaining balance.
Please note: You will be required to enter your post/zip code with your card details. Please ensure that you use the same post/zip code registered to your card - which may not be the same as the delivery address. Having payment issues? Please refer to this article.